Tripawds is a user-supported community. Thank you for your support!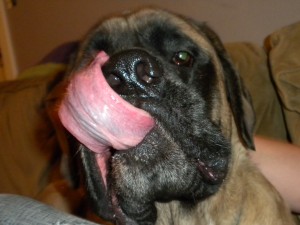 On January 20th, Bruiser will be celebrating his 4 month ampuversary! And boy will we celebrate. While I say it all the time, I will say it again – we are so happy to have Bruiser in our lives. He brings such joy to our lives. He is silly and sassy and mischievous and sweet! He entertains us daily and our lives are so full because he is such a great companion
It recently snowed here in CO and Bruiser has been busy trying to unearth his tennis balls, chasing his brother, and snuggling in the bed with us in an effort to stay warm.
Bruiser continues to kick cancer's butt. Five chemo sessions down and one to go! Chemo ain't got nothing on Bruiser. He does not seem to have any side effects; in fact he has never so much as missed a meal. He rocks!