Tripawds is a user-supported community. Thank you for your support!
We got great news about our beloved baby. He was given his first (post-amputation) chest x-ray this week and the results showed no metastasis in his lungs! What a great thing to hear!
Bruiser is doing great with the chemo. Since there is no metastasis, we will proceed with two more sessions (totallying 6 doses). He is tolerating the chemo really well. Our little family is so happy right now. The holidays couldn't be better!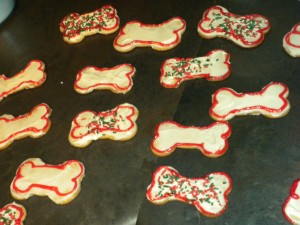 On a side note, I baked these cookies for Bruiser's oncologist. They were all eaten before we left the vet's office!