Tripawds is a user-supported community. Thank you for your support!
Today is a big day in our house; today is Bruiser's one-year ampuversary!!!! I am happy to say that Bruiser is healthy and happy! For that, we are going to celebrate in a big way.
Ways in which we will celebrate include lots of new toys (I have been stockpiling for this very occasion), lots of yummy treats, tons of love (although that happens every day), and even a steak dinner!
There are lots of other exciting things happ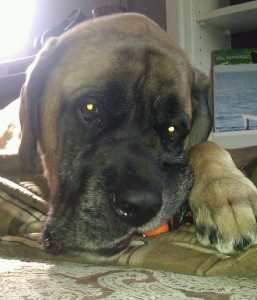 ening in Bruiser's life, but I will save those for a later update. Today, we focus on what's important: Bruiser's continued health and most of all, his happiness. Happy Ampuversary Bruiser!