Tripawds is a user-supported community. Thank you for your support!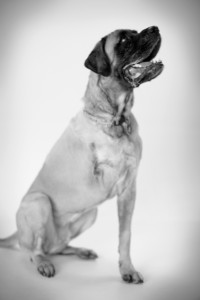 Boy oh boy, does Bruiser have a big weekend ahead of him! For starters, tomorrow (8/20) marks Bruiser's 11 month ampuversary! 11 months and still going strong. We are so thankful for his continued health and strength.
Sunday is a huge day for our big guy. It is Bruiser's 7th birthday! As if that is not enough, it is also Bruiser's television debut! As I wrote about in a past post, Bruiser is part of the YAPS (Youth and Pet Survivors) programs. As part of this program, Bruiser is matched with a human who has had, or currently has cancer, and they write letters back and forth. Bruiser has a wonderful 16 year old pen pal named Delaney and they have been writing each other since February of this year. On Sunday, before participating in a walk to benefit canine cancer, they will meet for the first time. 9News will be on hand to film their meeting and interview them afterwards. We are so excited for both Bruiser and Delaney. I will be certain to post a link to the interview after it takes place.
Not only does Bruiser get to celebrate his ampuversary, his birthday, and his special pen pal relationship, he will also get to indulge in some delicious doggy treats. Life is definitely good.