Tripawds is a user-supported community. Thank you for your support!
Bruiser's 4th chemotherapy session is quickly approaching. According to Bruiser's vet, the "typical" Carboplatin treatment calls for four doses of the drug, but we will most likely have six doses as there is some evidence that six doses may be more effective than four. However, we cannot be certain this is the plan until after we complete the fourth dose and then have x-rays taken of his lungs. We have to be certain the cancer has not meta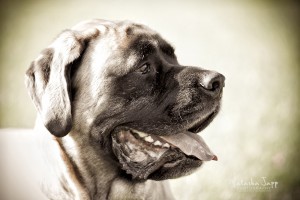 stisized before doing additional treatments. We hope and pray that Bruiser's lung x-rays will be clear. Please keep us in your thoughts.
In the meantime, Bruiser is doing great! He went for his longest post-amputation walk the other day and I could not have been more proud! He ran down a steep hill and looked just like the Bruiser-of-old. He didn't consider the fact that eventually he would have to go back up the hill and he was plenty tired on the way home. I also think he was just buying his time before heading back inside. He is such a diva.
Bruiser is going to have an awesome Christmas this year. Chris and I have already bought him tons of toys and a new dog bed (not that he is likely to use it as he is plenty comfy snuggling with me  in our bed). Maybe Chris will get some use out of it? Santa will also bring Bruiser lots of goodies since he has been such a good boy! I am going to make it my personal mission to make Bruiser 's Christmas experience this year the greatest day a dog could ever hope for.
Happy Holidays!