Tripawds is a user-supported community. Thank you for your support!
How quickly Bruiser's life has changed. It was on September 15th when we brought Bruiser to the vet to have his "slight limp" examined. Fast forward one month – Bruiser is now a tripawd and has started chemotherapy. How quickly things change!
Bruiser's first chemotherapy session was last Thursday and he respondly wonderfully. He showed no side effects! His diet has been so good that he has gained 4 lbs in the past 7 days. His energy level is super high (for a Mastiff anyway) and he seems very happy. We go back for more chemo in two weeks. In the meantime, we are hoping to enjoy some down time. The past month has been such a roller coaster ride with the amputation, recovery, and chemo that we are looking forward to enjoying some quiet QT with Bruiser (and his brother, Baxter).
Oh, and tomorrow we are having a pet photography session with a local photographer who has been kind enough to shoot pics of Bruiser free of charge! I will definitely post some pics when I get them. In the mean time, here is a pic of Bruiser sporting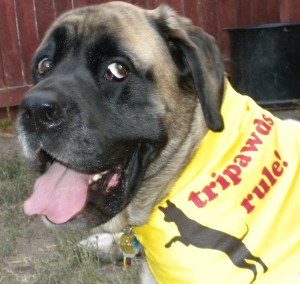 his tripawds bandana.